May 20, 2018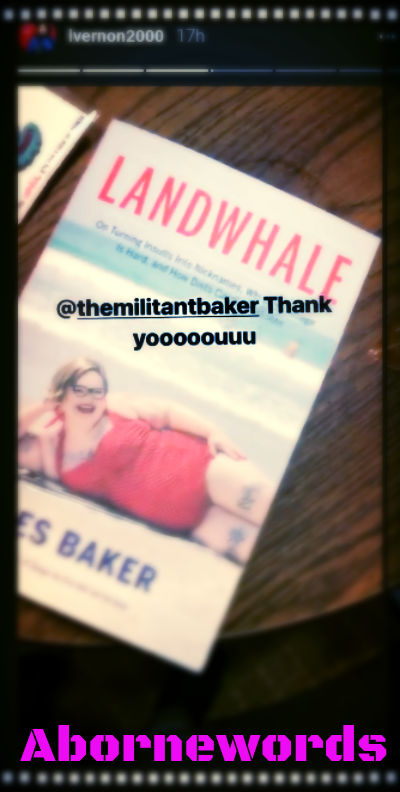 When it comes to interacting with clients there is no one way to achieve success since seeing everyone as an individual is always best, even when there are commonalities. Before you begin I will say it is just as much about what you do as it is about how you feel, meaning your attitude will likely set the tone for what will happen next and throughout your interaction, even if it is not interacting face to face so be mindful of how you are feeling before you begin to pitch or close the sale and seal the deal. Many people don't know when or how to make compliments a natural part of the Customer Service or Engagement Process. Soon I will share a few things you can do before you let the compliments start to flow. These tips will help you to reach other people who can relate to your situation and experiences just like women are doing with Jes Baker, the LandWhale Author. After Leah Vernon shared the Author during one of her live Instagram Post, I went to check out the LandWhale The Book Website. Before I strolled down, I read the subtitle and took a deep breath. I could not help it y'all. This is an Author who told diets to kiss her tushie so I proceeded with caution! The Author of So You Want To Talk About Race said ..."Instead of calling to us from the finishline that seems impossibly far away, Jes shares a path to self love that she is still on with us". Another Quote from the Author of The Body Is Not An Apology: The Power Of Radical Self Love said, "Praise to Jes Baker for this generous tender tale and for reminding us that it is okay to go ahead and live out loud"... After realizing how the words of Jes Baker had touched those women, I knew they had related to her experience in some way. Their words are compliments to who she is and what she has to offer her audience and the world so I decided to share some tips on how to make interactions more efficient so that closing the sale, or the deal for that matter, will be a whole lot easier. Your professionalism will shine through and you may even improve your negotiating game. Here are the tips.
Prepare ahead of time- You will likely remember the phrase, Dress for success so start with looking the part. When I worked at Disney, it was all about showing off my Disney Look. All aspects of my look had to live up to those standards all the way up to my name badge. That meant taking care of personal hygiene (obviously being clean) and wearing a clean uniform. Let's not forget not being offensive by wearing too much perfume or body spray. Going overboard with the finishing touches can be wrong so caution if you like to finish with your favorite fragrance. The right clothes can be something that has elastic, includes spandex or even your favorite pair of Spanx. Maybe it is your lucky blue suede shoes, a rabbit's foot, or some jewelry or something. Blazers and jackets are a great way to dress up any outfit and they add a professional looking touch. Whatever, you feel good in, you should start there. If there are scripts or scenarios, practice beforehand. Don't have any? Reflect, thinking about times when you believe you could have handled a situation better by saying or doing something different. Use those reflections as a guide for future interactions with clients/prospects. Scripts provide guidance so always try to incorporate those into the conversation, even if you do not need to read them verbatim and follow the law. Use them to your advantage. In certain instances, you may be able to overcome objections by saying the right things. Remember, preparing ahead can included these tips and more. Remind yourself to do this by making it your mantra or just create your own.

Prepare ahead of time.
Strike up conversation- Get the client/prospect talking. It will make your job a lot easier as you assess, serve and cater to needs. You will be able to eliminate some of the questions you have about likes, needs, wants and necessities. Remember, its all about the client. When you are not a firefly being the light that guides your client, you are still a silent valuable resource, wandering about until you are called upon. Never forget to think of yourself as a resource with something to offer. Don't be short with the people you serve or standoffish but understand that being persistent is different from being pushy.

Identify commonalities- Consider what you have in common with this person or their lifestyle. Those commonalities will help guide the conversation and how you relate and engage during the interaction. Your actions will not seem strategic or robotic so you will show yourself as the real person you are. Your life experiences and stories are your real life so use them. Doing so will show that you are an individual with real feelings and real life experiences just like the people you serve. In this step it is safe to let the compliments flow.



Be open to advice- Clients may have a lot of advice for you. Remember, they have worked and lived too. Be open-minded even if you are weary of handing over control. Wendy Williams never gives control of her microphone to a guest or audience member. You will not lose control of how you interact, if you remember your goals and objectives. Whatever you want to achieve or whatever you want to happen can become a reality, if you keep your responses focused on your goals and objectives for the interaction, as you accept and thank your clients for their advice.



Highlight the benefits- Think about what having a product or using a service would mean for the client/ their family members. If the products or services you offer will make life easier, make task more efficient, or save them time and money, express those things to the client. Are you using Social Media to share product or service experiences? Tell your client, you just shared something about this using Facebook or Instagram. It will go a long way and likely keep the client engaged with the brand or service. Sharing is caring.



Handle products and documents with care- Proper handling will show how valuable your products are. Showing how much you care about every aspect of the Customer Interaction is important. Presentation is a huge part of the Customer Experience. Professionalism goes a long way. Hand out your business card and offer advice on/off the clock by including your email.



Take what you do to the next level- Connect with people who are doing what you are or those who share your interest. Go to networking events, conferences, and summits. Listening to and interacting with other professionals will only make you better at what you do.

That's all. Kudos...
Posted by Nicole Kim. Posted In : Beauty